Our companion animals are known to have their lives fully devoted to us, even though their life span is fairly shorter than any of our human companions. So, what do we do? Do we mull over it or do we take charge and make sure that it is not about how long their lives are for but how big we make it for them?
September is Animal Pain Awareness Month and we cannot stress it enough that as their more intellectually gifted companions we should be more mindful of all the tell tales of what our furry friends may be going through or our prone to go through in the future.
If you've a pet who is facing any kind of injury, pain in any part of the body, has recently undergone a surgery, is a senior dog in need of care or it is a healthy pup but you still want to take extra precautions to keep them well, fit and add precious years to their life, here's us listing out some super effective physiotherapy techniques you can try for your pet today!
1. Cold Laser Therapy:
-Helps in local pain relief
-Helps in regeneration of micro blood vessels and nerve fibres and cells
-Equals in relieving pain to any area with the effect of oral anti-inflammatory drugs but without the organ related side effects.
Used for: Muscle strain or tears
2. Medical Acupuncture:
-Nerve stimulation
-Regaining awareness of weak limb or body parts that have lost nerve signals
-Treat nerve related pain
Used for: Arthritis, Neurological Weakness such as IVDD, paraplegia to various degrees, in both felines and canines
3. Electrical Muscle Therapy:
-Muscle growth stimulation
-Muscle group re-education; teaching the affected limbs to use the correct muscles while taking a stride
-Pain relief of aching muscles
Used for: Hip Dysplasia, DJD (degenerative joint disease), Muscle Tears, Knee Problems, Neurological Weakness, Arthritis
4. Therapeutic Exercises: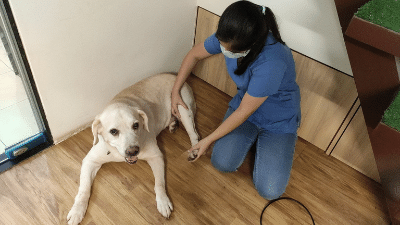 -Muscle development
-Muscle strengthening
-Ease joint pain and improve movement
-Improvement in body awareness and balance
-Building of core muscle strength for easy mobility and weight loss
Used for: Hip Dysplasia
5. Hydrotherapy:
-Muscle strengthening
-Improvement in join mobility
-Weight loss or body conditioning
-Relief from joint or muscle pain
-Improvement in stamina
Used for: Hip Dysplasia, Knee Problems & Weight Loss
Where can you find a physiotherapy centre which does these techniques?
Pet Physio Pro is India's first standalone physiotherapy & gym facility dedicated solely to a holistic improvement in the quality of life of young, old and injured pets alike & their overall wellbeing.
Founded in 2019 by Dr. Pranjal Nadkarni, veterinarian, physiotherapist and acupuncturist, an alumna of deemed institutes such as Bombay Veterinary College, Mumbai; Canine Rehabilitation Institute, Florida and CuraCore Inc, Colorado.
They use the aforementioned techniques to help:
1. In pain relief and give solutions to keep the older or physically ailing patients, at times suffering from severe life threatening conditions, comfortable with physical therapy and acupuncture
2. Obese pets in weight management using a balanced regimen of nutrition, exercises and their unique underwater treadmill therapy
3. Take care of bone and muscle health in younger pets, as early as 5 months of age, with tailored exercise regimens at the Animal Gym and Fitness Centre
With compassion, care and precision of their techniques, they have been able to successfully rehabilitate over 200 patients (ranging from dogs, cats, birds etc.) in just a year of their operation.