We all have our days of craving ice creams or sweets, don't we? Well, this may not be news to you, but so do our dogs! However, any well-informed pet parent knows the adversities of feeding their dog commercial ice creams & sweets, because of the high sugar content in it. So what do we feed our dogs instead?
Frozen Yogurt popsicles for dogs act as a perfect substitute for ice creams, sweets or any kind of craving your dog may have. Here's rounding up 8 of those reasons:
1. Lactose Free:
Because yogurt is fermented, it contains really less lactose, which makes it much easier for dogs to digest it!
2. Packed With Probiotics:
These yogurt popsicles are packed with probiotics which promote gut health of your dog.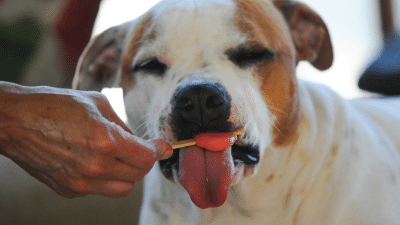 3. Stress Buster:
Licking is a stress busting behaviour for dogs. Licking has an anti-stress mechanism within itself, and frozen yogurt popsicles make for a perfect stress busting treat.
4. Low Calorie:
The low calorie content assists your dogs with weight management.
5. No Sugar Content:
Yogurt popsicles don't have any added sugar in them, if made with real ingredients and pure flavours.
6. Teething Aid for Puppies:
Cold treats like these popsicles help in reduction of inflamed gums, especially in a puppy.
7. Interactive Aspect:
When feeding your pet a yogurt popsicle you can enjoy watching & interacting with them, which will definitely serve as a good bonding time.
8. Highly Palatable:
These popsicles are extremely tasty and healthy and hence, can be added in meals to entice fussy eaters!
Clever Canine's Probiotic Frozen Yogurt Popsicles, also popularly known as Lickin' Licious can serve as the right alternatives for sweets, ice creams and treats for your pets, this upcoming festive season.
With no added sugar, no milk, no hydrogenated vegetable oil, no artificial flavours and a variety of 5 flavours, you can totally rely on them to give you the best high quality frozen treat for your pet. They're also vet approved.
To place your orders today, log on to www.clevercanine.in
*Frozen Yogurt Popsicles: Only available in Bengaluru
*Dog Treats: Available all over India