President Joe Biden and first lady Jill Biden's dogs, Champ and Major, are back at the White House after spending time in Delaware amid a biting incident involving Major.
The Biden dogs were moved to their house in Delaware after a biting incident at the White House prompted a round of training to help acclimate him to life as a first dog. Though the president said this was due to scheduling and not a form of punishment.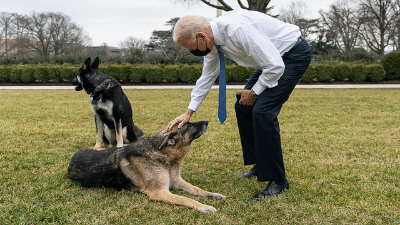 Biden earlier this month said Major was still getting used to life at the 18-acre complex in the U.S. capital, surrounded by aides and security officers, but was, for the most part, a sweet dog beloved by staff. The German Shepherd was struggling to adapt to this new environment at the White House and was startled by someone, the president said.
Major, a rescue dog, was adopted by the Biden family in 2018 after Delaware Humane Association posted on social media that it received a litter of sick German Shepherd puppies. The Bidens fostered the puppy for several months before making the adoption official. Major is the first shelter dog to reside at the White House.
Source: News18