With Holi round the corner, we're walking with care to avoid any water balloons, but what about our pets? We tend to forget that the colors of Holi are more harmful for them than for us and can cause constant biting, itching or licking, rashes on skin. Most skin problems in pets come through the bacteria and germs in the environment, be it the outdoor walk in the park or the house rug. As the environment cannot be completely controlled, the need of dermatology products that can help fight the bacteria on the skin of the pet increases manifold. Here are 5 awesome & easy to use products by Para Canine that every pet parent must have:
Para Derm Medicated Shampoo
Is your pet shedding more than usual? Try this shampoo & be rid of all your worries. It not only strengthens hair roots, but also nourishes and revitalizes dull and dry hair coat. To add to its benefits, it is also effective against ringworm and other general bacterial, fungal mold and yeast based conditions and helps in avoiding its recurrence.
Buy Now at Amazon.in
Size: 100 ml, 200 ml, 500 ml.
Para Zero Tick - Tick & Flea Shampoo
It is the perfect treatment for ticks, fleas & lice and also prevents its recurrence. Just use this once a week when dog is infected and you'll be sorted. All you have to do is apply a sufficient quantity of the shampoo and lather up on the dog's coat, especially the heavily infected areas like neck, ears, under belly and between toes. Leave the shampoo on for 5 to 10 minutes, rinse with clean water and pat dry. Make sure to brush the coat properly to remove any entangled parasites. In severe cases, repeat every 15 days.
Buy Now at Amazon.in
Size: 100ML., 200ML. 500ML.
Going organic? This is the herbal shampoo you've been looking for, it can be use regular basis for a shining coat.
Buy Now at Amazon.in
Size: 200 ml, 500 ml, 1100 ml.
Para Derm Medicated Spray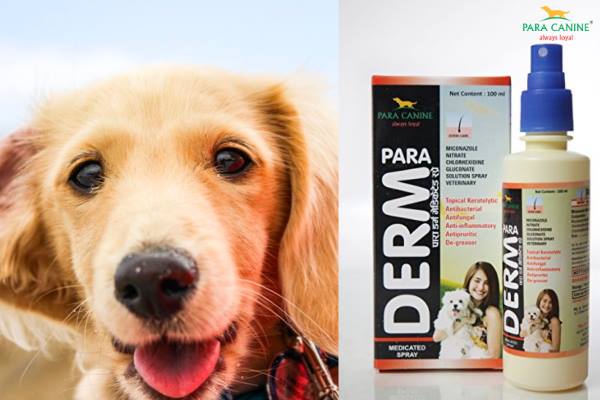 Excellent for solving Ringworm in dogs & cats. Just spray 2-3 times a day and make sure to distract your pet for 15-20 minutes after spraying to avoid them from licking it. You should see positive effects in 3-5 days. It also works well as a degreaser.
Para Dermoats
Precaution is better than cure! And this daily use, anti- allergic & anti- itch shampoo is the best precautionary pet grooming tool there is.
Buy Now at Amazon.in
Use Code: 9KMY2VCJ to get flat 25% discount.
Size: 100 ml, 200 ml, 500 ml.
Little secret: There is a flat 25% discount on all Para Canine products on Amazon.in, just use code: 9KMY2VCJ this to avail it!
Check out this super cool video by Para Canine to know more: