Grooming your pets can be a tedious task for the pet and the human alike. Hence, even when we choose to get a professional grooming service done, we have to look at a lot of factors. Which salon to take them to, how to deal with their separation anxiety, so on and so forth.
Mobile grooming vans are the real deal to solve all your woes! They come to your doorstep, at the convenience of your time – all just to groom your pet at the comfort of your own home. However, pet parents may not always choose to exercise this option as the grooming packages can burn a hole in their pockets.
Pet Maven, a mobile pet grooming van that has recently launched in Delhi, grooms your pet at the convenience of your home and has their grooming packages priced at super reasonable rates!
They drive their fully equipped mobile grooming studio to your home and professionally groom your pet. They only schedule a limited number of pets per day which in turn ensures that their professional pet groomers take gentle care of your pet and give a personalized experience to you and fur baby. Especially during winters, they also ensure that running hot water is always availble in the van.
Here's listing down some of their interesting grooming packages & prices:
Regular Bath & Basic Grooming (Rs. 800 - Rs. 1400):
Bath & blow dry and some basic grooming with nail clipping, ear & teeth cleaning, paw massage etc. With it being priced at Rs. 800 – Rs. 1000 for small breeds and up to Rs. 1400 for medium & large breeds, this is easily one of the best grooming deals you can get in town!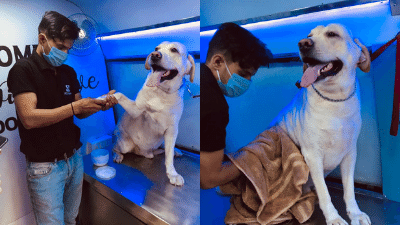 De-shedding Package (Rs.1200 - Rs. 1600):
As the onset of winters is one of the seasons where your dogs shed the most, getting them de-shedded and cleaned up is a must! Their de-shedding package consists of a de-shedding bath along with extra brushing with a descending tool, to ensure your pet is all prim and proper!
This is priced at Rs. 1200, Rs, 1400 & Rs. 1600 for small, medium & large breeds respectively.
Paradiso Therapy (Rs. 1600- Rs. 2100):
This is one of their special offerings where your pet is given a full massage with essential oils before they move on to grooming your pet. This de-stresses their bones as well.
This aroma-therapy like package is priced at Rs. 1600 – Rs. 2100 depending on the dog's size & breed.
So, Delhi-ites, what are you waiting for? Pick up the phone and book that much needed grooming session your pet requires. You know you've been putting that off for a while now.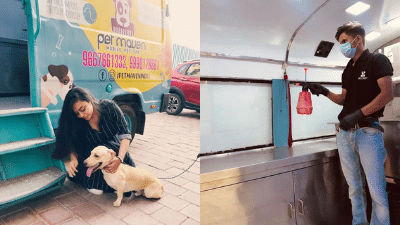 Tick & Flea Package with Medicated Bath (Rs.1200 - Rs. 1600):
Dogs suffering from ticks, fleas or any skin conditions require frequent medicated baths for soothing comfort. This package consists of a medicated bath along with removal of ticks by hand, ear & teeth cleaning, nail clipping and even a paw massage. This special package is priced at Rs. 1200, Rs, 1400 & Rs. 1600 for small, medium & large breeds respectively.
To book appointments, call 9667661333 or visit petmaven.in
*There's a 25% festive discount on all services. HURRY!