Don't we all love living in a world where everything is available at just a single tap of a finger? We feel you & we've got you! Much like the popular home services aggregator Urban Company, we found something as useful and easy to care for our fur babies – The Crittr App!
Living in pandemic times, we have realized the importance of being in comfort of our homes all the more. With stepping out being more like a necessity than an option, people choose to get everything delivered – from products to services, right at their doorstep!
Crittr is a mobile application that works on similar grounds, to fulfil pet care needs of your fur babies. Ranging from pet groomers & dog walkers to dog trainers & vet home visits, pet parents can now book an experienced professional to fulfil any of their pet care services as per their requirements and await exceptional service in the comfort of their home, at their own time.
Here's listing down some exciting services and features of the app:
Book Pet Grooming:
Grooming includes bath, haircuts, styling, and medicated baths for both cats and dogs. The packages are categorised in three – Deluxe, Premium & Gold. There's a combo for an all-in-one grooming as well!
Price Range: Rs. 599 – Rs. 2,429
Book Pet Veterinarians:
Their veterinary services include - individual consults, emergency visits, blood testing, vaccinations and X-ray imaging - all from the comfort of your home & at your preferred time slot.
Price Range: Rs. 499 for routine check-ups – Rs. 5,999 for all vaccination packages
Book Dog Walking:
Dog walking can be availed on a day to day basis, for a month or 90 days. With 2 walks per day for every pet, they ensure that they treat your canine buddy as their own during their precious walk times!
Price Range: Rs. 179/daily – Rs. 14,999/90 days
Book Dog Training:
Their training services include obedience, adorable tricks and behavioural training. The commands and lessons in each are visible on the app so the users always know what's going to be taught to their pet prior to the booking. There's also a 10% discount if you pay for 18 sessions in a go!
Price Range: Up to Rs. 999 per session
To further amplify convenience for pet parents, Crittr has carefully bundled each of their services into unique packages so pet parents are not only spoilt for choice, but can also pick the package most suited to their requirements, timings and budget.
So, Mumbaikars, are you ready to try this out?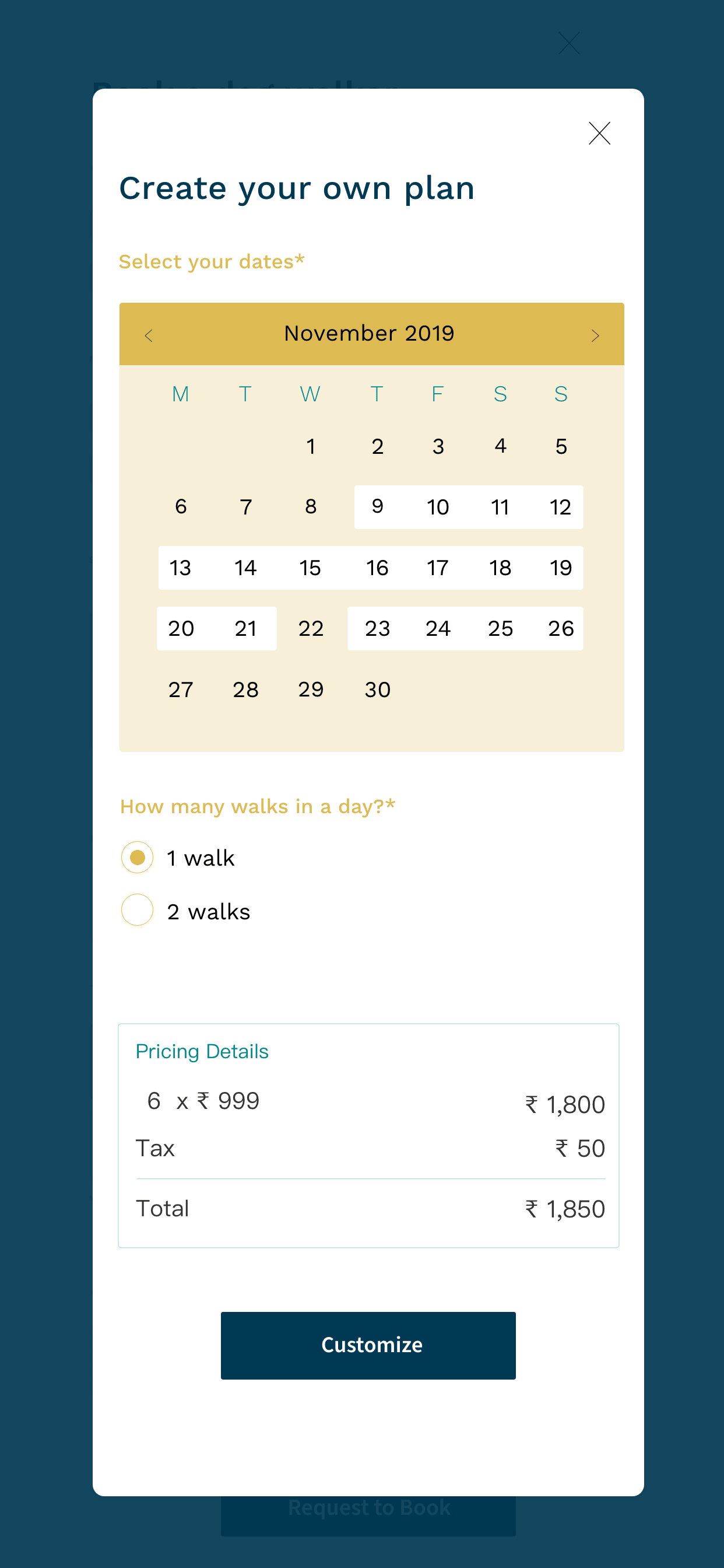 Easy Steps to Follow for Booking Appointments:
Download the app

Click on any service

Add a pet

Select a package

Select start date

Select time slot

Enter address

Submit & book
To download the app, Android users can click here and iOS users can click here. Visit www.crittr.in for more info!