Travelling in the times of Corona has been a nightmare. However, with the unlocking process under way in most states, people are now looking forward to meeting their family members stranded in a different city. This also includes furry family members.
If you're someone who's stranded in another city with your pet and want to go home, or if your pet is stuck in another location and you simply want them to come home – Here are the 3 ways any person can travel interstate with their pets:
Via Air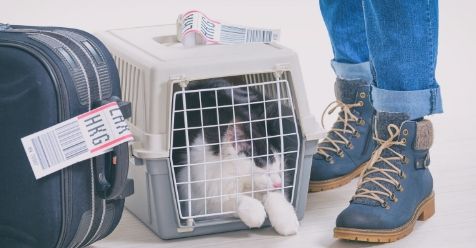 Air relocation, especially if it's a longer distance, should be the most preferred mode of transportation for your pets. It ensures that your pet reaches from Destination A to Destination B in the time span of 4-6 hours. Hence, it saves time and keeps the pet comfortable.
The extra precautions that one needs to look out for are:
a) Airlines should be pet-friendly
b) There should be direct flight connectivity from destination A to B
c) Relevant bookings need to be made as there are lot of last minute cancellations from the airlines due to the uncertain regulations being formulated amidst the pandemic
Via Road
If distance is shorter, then travelling with your pet via road is the best option. Here are a few more things you need to keep in mind due to the recent lockdown restrictions:
a) You need to check whether car travel through the state borders that you would be crossing is permitted without a pass
b) If not, you need to figure out interstate agreements or movements between these borders & apply necessary permissions for travel passes required
c) You would also require a crate for your pet to be comfortable and safe inside a car and support staff (if required) & their sanitization is equally recommended
Via Train
IRCTC are not currently taking direct bookings. Special cabins need to be booked and very limited numbers of coupes are being allotted to travellers. Booking is via third party agents.
Tune in to watch our Facebook Live Session at 6 PM tomorrow, on how you can travel with your pets in trains & planes!